Are you looking for discounted or FREE books?
Then this post is for you.
Welcome to another week of Kindle deals! Every week, I am posting discounted books which I found interesting and had great reviews. For latest updates on available deals, please check this page from time to time. It will be constantly updated to add new deals and remove expired ones.
We got some pretty amazing books this week. I've been wanting to read The Book Thief so I didn't hesitate in getting it. Also got the free books too. 😉 I hope you find the right book for you. Happy reading! 😊
Note: Clicking on the title will take you to the book's Goodreads page. Deals are available for Amazon US only.
---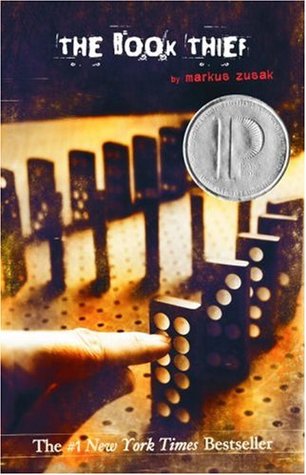 The Book Thief by Markus Zusak
Price: $2.99
The extraordinary #1 New York Times bestseller that is now a major motion picture, Markus Zusak's unforgettable story is about the ability of books to feed the soul.
Nominated as one of America's best-loved novels by PBS's The Great American Read.
When Death has a story to tell, you listen.
It is 1939. Nazi Germany. The country is holding its breath. Death has never been busier, and will become busier still.
Liesel Meminger is a foster girl living outside of Munich, who scratches out a meager existence for herself by stealing when she encounters something she can't resist–books. With the help of her accordion-playing foster father, she learns to read and shares her stolen books with her neighbors during bombing raids as well as with the Jewish man hidden in her basement.
---
Fragile Facade (The Blind Barriers Trilogy #1) by Sophie Davis
Price: FREE!
The Brightest Smiles Hide the Darkest Secrets….
When Raven Ferragamo finds a stranger's diary, she has no idea it will catapult her into the mystery of diamond heiress Lark Kingsley's disappearance.
But Raven soon learns that Lark knew what was coming, and there was much more to her disappearance than the news headlines show. The more she discovers, the more Raven realizes that she and the girl born into Manhattan society aren't so different after all.
Now Raven can't walk away from Lark's pleas for help. But the deeper she goes, the more Raven realizes that she may end up ensnared in the dark secrets she seeks to unearth…
---
The Girl In Between (The Girl in Between #1) by Laekan Zea Kemp
Price: FREE!
Bryn Reyes is a real life sleeping beauty. Afflicted with Klein-Levin Syndrome, she suffers episodes of prolonged sleep that steal weeks, and sometimes even months, from her life. But unlike most KLS patients, she doesn't spend each episode in a catatonic state or wake up with no recollection of the time she's missed. Instead, Bryn spends half her life in an alternate reality made up of her memories. For Bryn, the past is a place, until one day a boy she's never met before washes up on the illusory beach of her dreams with no memory of who he is.
But the appearance of this strange boy isn't the only thing that's changed. Bryn's symptoms are worsening, her body weakening as she's plagued by hallucinations even while awake. Her only hope of finding a cure is to undergo experimental treatment created by a German specialist. But when Dr. Banz reveals that he knows more about her strange symptoms than he originally let on, Bryn learns that the boy in her head might actually be the key to understanding what's happening to her, and worse, that if she doesn't find out his identity before it's too late, they both may not survive.
---
The Hunt for Red October by Tom Clancy
Price:$1.99
Here is the runaway bestseller that launched Tom Clancy's phenomenal career. A military thriller so gripping in its action and so convincing in its accuracy that the author was rumored to have been debriefed by the White House. Its theme: the greatest espionage coup in history. Its story: the chase for a top secret Russian missile sub. Lauded by the Washington Post as "breathlessly exciting." The Hunt for Red October remains a masterpiece of military fiction by one of the world's most popular authors, a man whose shockingly realistic scenarios continue to hold us in thrall.
Somewhere under the Atlantic, a Soviet sub commander has just made a fateful decision. The Red October is heading west. The Americans want her. The Russians want her back. And the most incredible chase in history is on…
---
Price:$2.99
In the midst of a raging blizzard, lightning struck on the night Laura Shane was born. And a mysterious blond-haired stranger showed up just in time to save her from dying.
Years later, in the wake of another storm, Laura will be saved again. For someone is watching over her. But just as lightning illuminates, darkness always follows close behind.
Have you read or are you getting any of these books? Let me know in the comments below!
---
Prices were checked at the time of writing and are subject to change. For currently available deals, please visit this page.