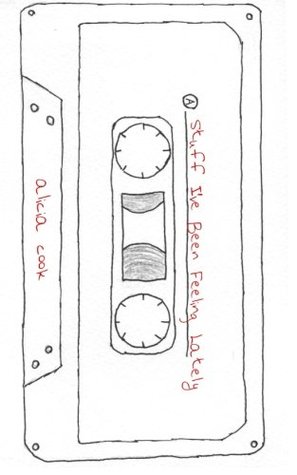 Stuff I've Been Feeling Lately by Alicia Cook
Published January 7th 2016 by Createspace Independent Publishing Platform
Genre: Poetry
Not Recommended to: people who have high standards for poetry
Add to Goodreads Buy on Amazon
In Alicia Cook's second poetic effort, designed in the style of an old mixtape, she sets her thoughts to a nostalgic tune. There is no Table of Contents. Instead, there is a "Track List," making it easy to refer to them to your friends with a, "Hey did you read track seven?!" There are no chapters. Instead, the book is divided into two parts, or as one would say in the 90's, two "sides." Side A holds poetry that touches on all aspects of the human condition like life, death, love, moving on, evolving, growing up, hometowns, family dynamic, life after trauma, and make-ups and breakups. Side B holds the "remixes" of these poems, in the form of blackout poetry, also known as "found poetry." Side B gives the material a fresh twist by creating new poetry out of Side A. There is also a very special surprise at the end of each track. Alicia decided to self publish this effort after leaving her publishing house. She views this book as her "independence" and official separation from that venture. She also drew the front and back cover herself.
A copy was given to me via NetGalley in exchange for an honest review.
RATING

: ★★☆☆☆
This is not my cup of tea.
I love poetry and I'm definitely obsessed with music but this didn't work for me.
Normally, I would finish a poetry book in one or two sittings but this one took me TEN days. Every time I try to pick it up, I end up reading a few poems and putting it back down. More often than not, it made me really sleepy.
I expected the tracks to convey the feelings of each poem but sadly, most of them did not. I'm not saying the songs were not great. But do I want to listen to rap or club music along with reading poetry? No.
(Disclaimer: I like all types of music. You can check my Spotify.)
To me, poetry is a language akin to music. It has to have a certain flow and rhythm to it. The poems in this book didn't feel like poetry. I love contemporary poetry as much as the next person but judging by the five-star ratings this book got, I'm not sure if we read the same book.
This is a poem from the book.
Is  t h i s  a new way of e m p h a s i z i n g things? Great poetry doesn't need this kind of aesthetic if the words are beautiful enough.
Now, this is the kind of contemporary poetry that I like.
I don't know about you but there's a big difference to me.
Since I didn't like Side A, I was really hoping I would at least like Side B. I was excited at the prospect that Side B was blackout poetry taken from Side A.
Again, this book let me down.
If Side A didn't feel like poetry, Side B was worse.
You are the greatest. That's it.
I don't want to sound mean but I just really wanted to give my honest opinion. Writing poetry is really hard and it's very subjective. I do think a certain poem will appeal to someone who relates to it on a deeper level. I felt detached while reading this and I just wanted to get it over with. Maybe this book just wasn't for me.
P.S. I made a Spotify playlist of the songs mentioned in this book. This is not complete since some were not available. Feel free to use this while reading the book.