Hello lovelies!
I've been tagged by quite a few thoughtful bloggers so I'll be posting those book tags over the next few days. Thank you so much to Zuky at BookBum for tagging me in this. Do check out her amazing blog if you haven't yet. 😀


Tell Me Your Dreams by Sidney Sheldon
This book was my first ever Sidney Sheldon book. THE PLOT WAS AMAZING. If you haven't read this book, I highly recommend that you do. It's best to stay away from spoilers since it will take away the surprise which made this one awesome. I binged-read Sidney Sheldon books after this.


I feel like I'm an old soul because the way classic books are written strangely appeals to me. Jane Eyre was a book I highlighted like crazy. Below is one of my favorite quotes.
"His idea was still with me, because it was not a vapour sunshine could disperse, nor a sand-traced effigy storms could wash away; it was a name graven on a tablet, fated to last as long as the marble it inscribed. "


Cammie Morgan from the Gallagher Girls series. I've read this long ago but I remember that I thought she was a really cool girl. Actually, all of the girls in Gallagher Academy for Exceptional Young Women (secretly a spy school) are. Speaking of, I have yet to finish this series.


This is hard. I'm a sucker for romances so I can think of a lot. But my current favorite is Cal and Mare from the Red Queen series. I was Team Cal ever since the first book and the third book made me happy but at the same time broke me. Please, Victoria. I need a happy ending for these two. I don't think my shipper heart will be able to take it if it's otherwise.


Mia of the Princess Diaries series. I know a lot of people might question this. She's certainly not perfect and honestly, she whines a lot but hey, it's a diary. I did that in mine too. Haha. The reason I chose her is that I see myself in Mia. I also had a lot of insecurities – I think we all do – and I related to her a lot. I started the series when I was still in high school and it went on until college so in a way, I grew up with her. I saw her grow into a better person and she helped me become one, too. 😀 So even though the Princess Diaries series is not the best one out there, it will always have a special place in my heart.


Does this mean books translated from another language? I'm not from an English speaking country so almost all of the books I read fall into the foreign category so I'd go with that description. 😀
Kafka on the Shore by Haruki Murakami
I did not love this book but I liked it. I think you need to be in a certain state of mind or mood to be able to appreciate this book. It's got a lot of weird stuff going on like talking cats and raining fishes. But what I liked about this book is that it made me read between the lines and think about life.


YES. I believe almost all readers have done this at least once. There was also a time that I bought a book on impulse because the cover was beautiful.


I regret to say this but I have yet to read a historical book. One of my New Year's resolution this 2017 is to make my reading more diverse and I guess I should start with this. Recommend to me your favorites! 😀


Hogwarts, of course. I went to Universal Studios Japan and they have an awesome Harry Potter-themed ride. You ride a broom and take a tour of Hogwarts, join a Quidditch game, and face dementors. It's in 4K3D so it felt very real and it's hands-down the best amusement park ride I've ever experienced. It made me experience what it felt like to be in Hogwarts for a while and it was pretty awesome.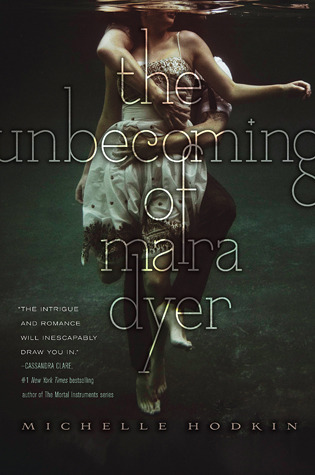 The Unbecoming of Mara Dyer by Michelle Hodkin
The whole Mara Dyer series was either a hit or a miss for me. I had a lot of problems with the first book and maybe my expectations were too high so I was left feeling disappointed. I absolutely loved the second book but the third one also did not reach my expectations. Such a shame considering it's the last one. *sigh*
Tagging:
The Never Ending Story || The Book Raven || The Lit Mermaid || Twin Reads || Love Reading and Coffee
No pressure to do this, only if you want to. Comment a link to your post if you did. Enjoy! 😀
Clean Template:
1. Math — a book that left your head spinning in circles
2. English — a book do you think has beautiful written expression
3. Physics — your favorite scientifically minded character from a book/film
4. Chemistry — your favorite literary couple
5. Biology —your favorite book/film/series character
6. French — your favorite foreign book/film/program
7. Art — Have you ever judged a book by its cover, even if you weren't meant to?
8. History — the last historical book you read
9. Geography —literary destination would you really like to visit (real or fictional)
10. Drama — a book that you think has a lot of over-dramatic hype
This tag was created by Not-so-modern-girl. Don't forget to check out her post! 🙂