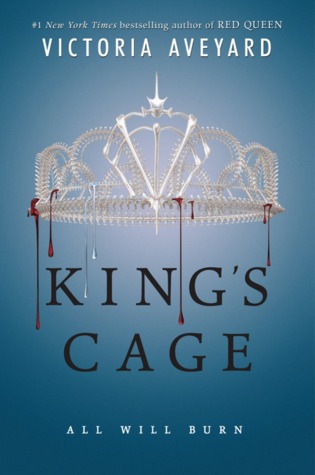 King's Cage (Red Queen #3) by Victoria Aveyard
Published February 7th 2017 by HarperTeen
Genre: Young Adult | Fantasy | Dystopia
Recommended to: fans of the Red Queen series
Add to Goodreads Buy on Amazon
Mare Barrow is a prisoner, powerless without her lightning, tormented by her lethal mistakes. She lives at the mercy of a boy she once loved, a boy made of lies and betrayal. Now a king, Maven Calore continues weaving his dead mother's web in an attempt to maintain control over his country—and his prisoner.
As Mare bears the weight of Silent Stone in the palace, her once-ragtag band of newbloods and Reds continue organizing, training, and expanding. They prepare for war, no longer able to linger in the shadows. And Cal, the exiled prince with his own claim on Mare's heart, will stop at nothing to bring her back.
When blood turns on blood, and ability on ability, there may be no one left to put out the fire—leaving Norta as Mare knows it to burn all the way down.

This is my most anticipated release of 2017 but my copy took forever to arrive so I only finished it now. This will probably be an emotional review so please bear with me.
RATING:

 ★★★★★
My heart hurts.
I'm writing this now immediately after reading the book because I need to get the words out.
Victoria Aveyard fueled my heart with hope only to rip it apart to pieces. Out of the three books, this one affected me the most.
The beginning was certainly dragging but all of that is forgotten now. As I have said before, endings are Victoria's strongest suit. This one isn't as shocking as the others but it doesn't mean it's less heartbreaking. I understand. I completely understand. But it hurts just the same.
One thing I loved about this book was how Victoria wrote her characters in a way that would make you feel for them. I finally understood why Maven is the way he is. I understood Mare and Cal's choices. Victoria didn't give us rose-colored glasses, she made us see through the mask. And as flawed and as selfish as they could be, she made us love them all the same.
This book was equal parts emotion and action. It made me hold my breath in a lot of scenes. But even though I went into this for the thrill and excitement, surprisingly, my favorite scenes were the ones that touched my heart.
I know now, I didn't know what love was. Or what even the echo of heartbreak felt like. To stand in front of a person who is your whole world and be told you are not enough. You are not the choice. You are a shadow to the person who is your sun.
At the time of writing, we have approximately 11 months, 6 days, 2 hours, 30 minutes, and 35 seconds until the start of February 2018, the expected release of the fourth book (no exact date yet). Now let me go cry in the corner and try to get over my heartbreak.
P.S. Because of my frustration, I made a playlist for Mare and Cal. Feel free to listen. 😀