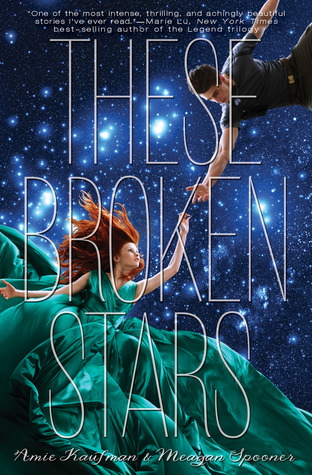 These Broken Stars (Starbound #1) by Amie Kaufman, Meagan Spooner
Published December 10th 2013 by Disney Hyperion
Genre: Young Adult | Science Fiction| Romance | Fantasy
Recommended to: people who like sci-fi or romance set in space
Add to Goodreads Buy on Amazon
Luxury spaceliner Icarus suddenly plummets from hyperspace into the nearest planet. Lilac LaRoux and Tarver Merendsen survive – alone. Lilac is the daughter of the richest man in the universe. Tarver comes from nothing, a cynical war hero. Both journey across the eerie deserted terrain for help. Everything changes when they uncover the truth.
RATING

: ★★★★★
You know you've read a good book when from the start, you get hooked that you just can't stop. All These Broken Stars was that kind of book for me. If only I don't need to work, eat, and sleep, I would have finished it in one sitting. That's how awesome it was.
I don't usually read sci-fi but this book made me love the genre, making me want to read other stories like it. It made me see how big the galaxy really is, that the knowledge mankind has about the universe is quite small compared to everything there is to learn. There are a million possibilities, a million different scenarios and this book was able to tap into that uniqueness.
The story is original and unlike any I have read, and although that would account for my limited knowledge of the genre, this book would hold a special place in my heart. Even if I will find others like it as I delve deeper into the mysteries of science fiction, it is my first love and nothing will be able to replace that.
Also, I love books with good romance thrown on top of a nice plot and this book was one of those.
"You're you," he repeats, his eyes full of grief. "You're the same girl who crashed on this planet with me, who I dragged through forests and over mountains, who climbed through a shipwreck full of bodies to save my life. You're the same girl I loved, and I love you now."
I love how the story progressed, how after spending so much time with each other, they finally realized their true feelings. For me, this book had the right kind of love, as close to reality as possible. The actions of the main characters fueled by that love made sense and never bordered on ridiculous.
On top of that, it had great humor or in other words, sarcasm. I personally think this is one of the best parts.
"Major, to what extent did you act upon your feelings for Miss LaRoux?"
"Medium."
"Excuse me?"
"How am I supposed to answer that question?"
With this book, I was able to feel happy, in love, sad, grief-stricken, lost, and hopeful. It was a roller coaster ride of emotions and I salute the author for that.
Read this book.